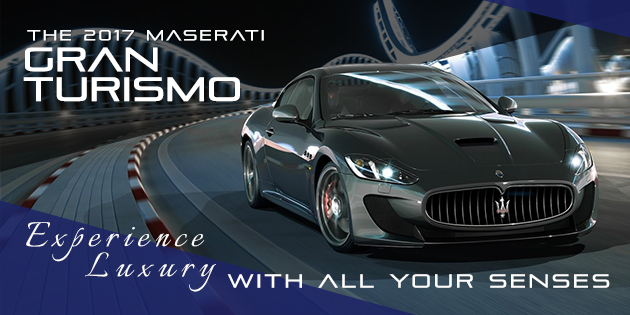 The 2017 Maserati GranTurismo; where style, power, comfort, and technology come together in an exquisitely designed sports car that's refined for and ideal driving experience.

Available in three different configurations, test-drive yours at Maserati of Naperville in Illinois today.

The 2017 Maserati GranTurismo
Is Stunning From Every Angle
The 2017 GranTurismo shares its awe-inspiring engine and leading-edge technology with Ferrari, making it a masterpiece of Italian design and engineering. It's detailed with sharp lines, intricate touches, and curves in all the right places for an overall look that demands to be driven.
Take to the roads in Naperville, Illinois and beyond inside the 2017 Maserati GranTurismo coupe and turn heads everywhere you go.

True to its racing tradition, the Maserati GranTurismo convertible combines jaw-dropping appearance with an aggressive, competitive spirit that makes a bold statement wherever it's driven!

Both the coupe and convertible boast features like:
Ferrari Built 4.7L V-8 Engine
405-hp
Top Speed: 177 mph
0-62 mph in 5.2 seconds
6-Speed Automatic Gearbox
Paddle Shifters
5 Operating Modes: Auto Normal / Auto Sport / Manual Normal / Manual Sport / Ice
Full-Throated Sport Exhaust
LED Daytime Running Lights
Rear Parking Sensors
And More

From the Italian for "road," the GranTurismo MC Stradale was developed to meet the demand for a street legal car with true racing pedigree.

With its sporty aggression and sleek lines, the drop dead gorgeous 2017 Maserati GranTurismo MC Stradale represents the pinnacle of Maserati's expertise in high-performance cars.

More powerful than its siblings, the MC Stradale comes with these additional features:
460-hp
Top Speed: 188 mph
0-62 mph in 4.5 seconds
Exclusive MC Race Mode
Carbon Fibre Bonnet
Stability Enhancing Front Spoiler and Side Skirts
20-inch Trofeo Design Forged Alloy Wheels
Aggressive Trofeo Design Central Air Intake

Premium Features and Technology.
Nothing of truly exceptional quality and value is ever mass-produced. That's certainly true of the Maserati GranTurismo. Each one is a hand-crafted work of art, the result of countless man hours of intensive, detail-oriented labor by the world's most skilled automotive artisans.

The 2017 GranTurismo includes available upscale features like:

Poltrona Frau® Leather Interior
Heated Front Seats
Power Seats With Driver Seat Memory
Dark Chrome and Eco Chrome Accents
Bluetooth® Hands Free Connectivity
Maserati Multimedia System with Navigation
Bose® Surround Sound System
And More

Experience The Thrill Of Luxury At Maserati of Naperville Today!
Awaken your senses with the new 2017 Maserati GranTurismo!

Discover exhilaration and luxury at its finest when you test-drive any of the GranTurismo trim levels available at Maserati of Naperville in Illinois today!
Information above is based on information available for the 2016 Maserati GranTurismo as is available on Maseratiusa.com